The power to
benefit business
Clear Junction's virtual IBANs perfectly complement the correspondent accounts that we provide.
Too often, traditional industry players offer services that are clunky, laborious and inflexible, so our team of experts has worked to facilitate access to solutions that are simple, fast and effective.
Our virtual IBANs, when used in conjunction with a Clear Junction correspondent account, are a highly efficient tool for financial institutions, one that enables them to perform frictionless cross-border payments on behalf of or in favour of their customers.
Don't be limited by traditional payment infrastructure.
Contact us

Power your business with virtual IBANs
Our correspondent accounts can be linked to near-limitless virtual IBANs to facilitate easy access to domestic clearing schemes and boost in-house efficiencies. If your business needs to make a large number of transactions on a regular basis, virtual IBANs are a highly effective way of sending and receiving cross-border payments on an automated basis.

Clear Junction's correspondent account acts as a master account, where financial institutions can create and allocate multiple virtual IBANs to each individual customer, enabling automated processing and reconciliation with the minimum of fuss. The entire process can be fully automated using our API or managed manually via our online banking platform.
Tailored
Traditionally the solutions available for financial institutions aren't flexible enough to satisfy the needs of the fintech community. This can result in your having to dedicate more time and energy to managing the suite of products you have been given than you would like.

Our team of experts have built a solution that can be tailored to suit your specific requirements. Once you have been assigned a correspondent account, you can link as many virtual IBANs as you want to the account, so that each of your individual customers has been allocated their own unique account. Moreover, there is a flexibility to issue these virtual IBANs in the names of the underlying customers – provided your regulatory status allows that.

This allows your business to focus only on that which is necessary and free up time to focus on more important areas within the company.
Cost-effective
Virtual IBANs are IBANs (International Bank Account Numbers) that are issued by banks to reroute incoming payments to a physical payment account. In recent years, they have become an essential tool for sending and receiving payments around the world, expanding the reach of financial institutions and reducing the costs associated with performing a large number of transactions.

One of the most attractive features of virtual IBANs is that they offer financial institutions all of the same benefits and facilities you would expect from a traditional settlement account, but at a reduced cost. This is because there is none of the hassle associated with opening and managing a physical account – you simply allocate a virtual IBAN to a specific customer, then start sending and receiving payments.
Efficient
The virtual IBANs from Clear Junction significantly increase the efficiency of the correspondent account by enabling automated matching of account receivables and reconciliation between your institution and its customers. Each virtual IBAN is addressable within the payment clearing networks in the EU and UK, providing you with the ability to collect domestic payments in these regions.
Depending on which payment networks or rails you are connected to, payments can be settled the same day and all transactions can be viewed at a glance using our API or online banking platform.
Who we serve
Clear Junction connects financial businesses to a regulated payments infrastructure that helps them overcome the barriers and challenges relating to banking and payments.
Many businesses struggle to gain access to the services and functions they need to operate effectively and efficiently. Our skills and expertise have facilitated the development of a digital payments platform that is fit for purpose and aligned to your requirements.

We serve banks and financial institutions that want to connect to customers on an international scale. Our solutions make sending and receiving cross-border payments simple and straightforward.



payment service providers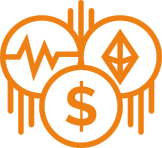 digital currency businesses