The power to unlock
New Opportunities
We believe that every business should be judged on its own merits. Clear Junction works to power financial institutions' payment ambitions by enabling access to banking and payments solutions that facilitate growth.
Using our extensive knowledge of payment infrastructure, technology and regulation, Clear Junction can provide your business with a correspondent account that will help you access previously untapped markets and customers, at the same as powering the products and services you offer.
Amplify your presence on the financial circuit.
Contact us

Power your business with a correspondent account
Our correspondent accounts are the cornerstone of our customer offering. They are designed for use by licensed financial institutions dealing with account receivables and enable businesses to hold and maintain a monetary balance in their own name.
Correspondent accounts are an essential tool for your business to make and receive payments in domestic currencies and access all other solutions that Clear Junction offers. Typically, a financial institution will need a correspondent account to hold currencies outside of jurisdictions where it has a presence and, in the majority of cases, the funds held in any foreign currency account are actually held in the correspondent account.
Our correspondent accounts can maintain balances in multiple currencies and access to them is supported through our API or online banking portal.
Access
It is an unfortunate truth that, for various reasons, many financial institutions struggle to gain access to the banking and payments services they need to function. Traditional banking institutions are often unwilling or unable to provide payment accounts to particular businesses and this is generally owing to a lack of understanding.
Our team of experts have the necessary industry expertise to provide access to banking solutions that work for you and our correspondent accounts are the portal through which businesses can access all of our other products and services.
The ability to have a monetary balance from which businesses can make and receive payments is often the base operational requirement – our correspondent accounts can facilitate this and get you up and running.
Convenience
Clear Junction's correspondent accounts are a convenient means of accessing the banking and payments solutions your business needs to realise its growth ambitions. In addition to facilitating a monetary balance in your business's name, our correspondent accounts help you reach a wider audience, boost competitiveness and improve correspondent relationships.
However, it is the ease at which you can integrate and enable automated UK- and EU-based money transfers, currency exchange and payouts in non-EU countries that is perhaps the most convenient aspect of this solution. Our correspondent accounts can help you handle your customers' incoming transactions and when combined with our virtual IBANs, it is possible to route inbound transfers through the individual payment accounts, providing a general overview of specific customer payments.
Seamless Integration
All of the features and benefits that the Clear Junction correspondent account affords your business can be accessed through a seamless integration with our API. Our proprietary technology has been designed with our customers in mind and our online banking platform helps you manage your payment requirements quickly, easily and efficiently.
Ultimately, our correspondent accounts grant you the access to the tools, products, solutions and services you need to conduct business successfully. Integrating our offering with your own does not require you to undergo laborious processes – we can tailor our service to meet your needs effectively and without fuss.
Who we serve
Clear Junction connects financial businesses to a regulated payments infrastructure that helps them overcome the barriers and challenges relating to banking and payments.
Many businesses struggle to gain access to the services and functions they need to operate effectively and efficiently. Our skills and expertise have facilitated the development of a digital payments platform that is fit for purpose and aligned to your requirements.

We serve banks and financial institutions that want to connect to customers on an international scale. Our solutions make sending and receiving cross-border payments simple and straightforward.



payment service providers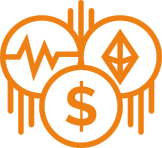 digital currency businesses