What are CHAPS payments? Complete Guide
The Clearing House Automated Payment System (CHAPS) is one composed of more than 30 direct participants and over 5000 financial institutions. Here, we take a look at the history of CHAPS, who it is designed for and the benefits of one of the most popular high-value payment systems in the world.
For those wishing to make large real-time gross settlement sterling payments in the UK, you would be hard pressed to find a more effective and efficient system than CHAPS. The network of both direct and indirect participants facilitates same-day high-value payments to UK accounts – provided the payment instructions are sent within the timeframe each specific bank and financial institution outlines in their terms and conditions.
Direct participants include traditional high-street banks, while indirect participants include financial institutions who access CHAPS indirectly and make payments through direct participants – something generally referred to as correspondent banking which has significantly increased in recent years.
THE HISTORY OF CHAPS
Believe it or not, Anne Boden, CEO and Founder of Starling Bank, was one of the architects of CHAPS which will forever have the reputation as being the UK's first real-time payments system. It was originally set up in February 1984 by the Bankers Clearing House before transferring to the CHAPS and Town Clearing Company Limited in December of the following year.
When town clearing (the process by which cheques were cleared the same day between specific bank branches in central London) came to an end in 1995, the company operating CHAPS was renamed to CHAPS Clearing Company Limited. This continued for the next few years until the responsibility for CHAPS was transferred to the Bank of England in November 2017.
Today, CHAPS has many users, but because of its relatively high costs and the specific needs it fulfils, it is used by a more niche audience than BACS and Faster Payments, which typically service different requirements. Indeed, it is typically used for payments of £10,000 or more.
HOW DOES CHAPS WORK?
As with all UK-based payments networks, CHAPS is pretty straightforward (which is part of its appeal). The CHAPS service runs from 6am to 6pm, Monday to Friday – apart from bank or public holidays in England and Wales – and enables banks, financial institutions and businesses to make fast, high-value payments efficiently.
Put simply, the entity wishing to make a CHAPS payment instructs their service provider to do so and, if done before a specific cut-off time, the payment will arrive in the receiver's account immediately (although it can sometimes take up to two hours). CHAPS is the ideal solution for those wishing to make large time-sensitive transfers.
A diagram detailing the exact way the CHAPS system works can be found below.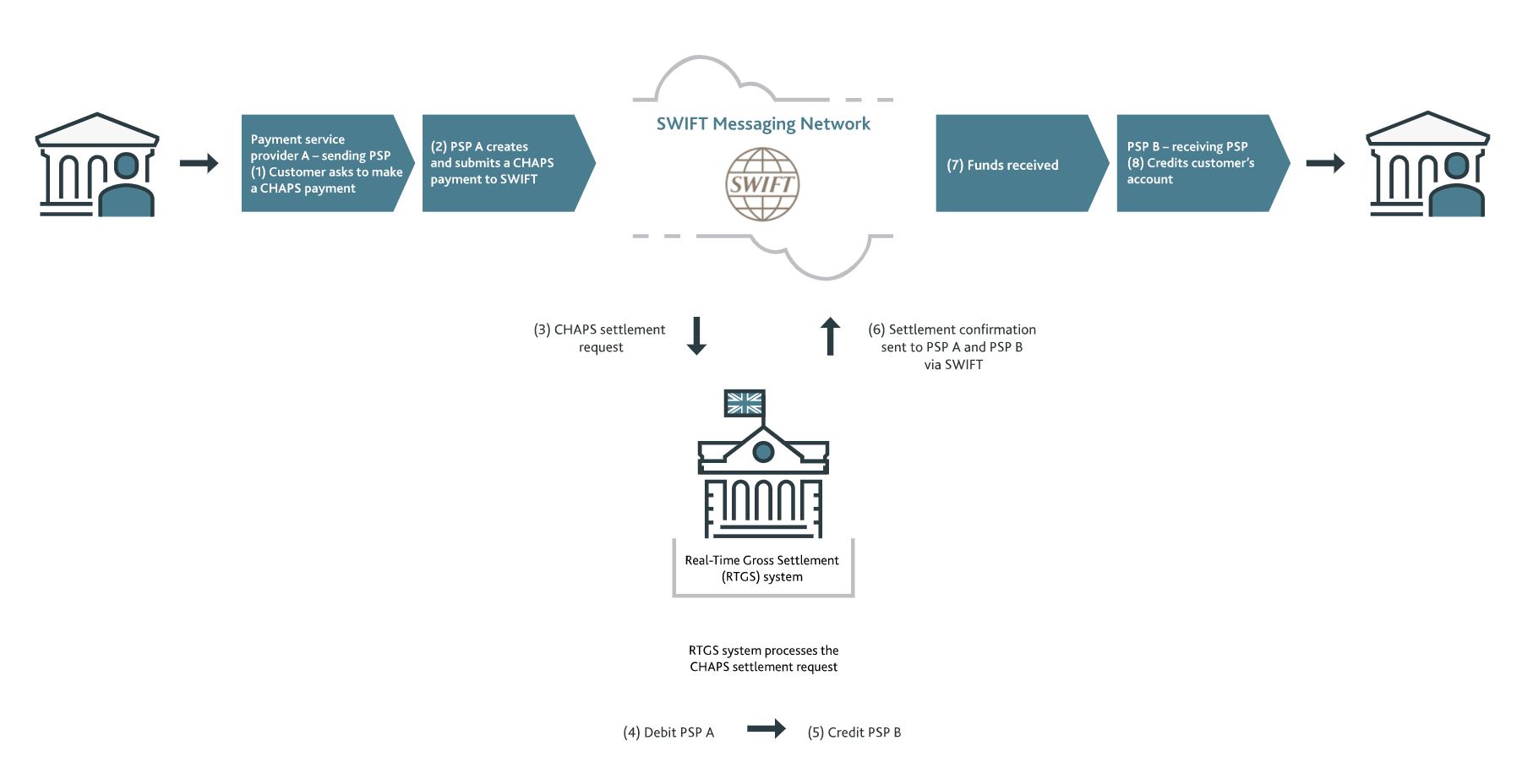 Source: Bank of England
WHO USES CHAPS?
In many ways, especially with the option of BACS and Faster Payments, CHAPS can be said to be a more niche payments service, but it does have some specific use cases. Given that some banks can charge as much as £35 for a money transfer, CHAPS is often considered as the best means of making payments when significant amounts of money are involved – especially when we consider that there is no limit to the amount of money that can be transferred via CHAPS.
For instance, financial institutions and particularly large businesses might use CHAPS to settle foreign exchange transactions; corporates might use CHAPS for payments to suppliers; while individuals might use the service when purchasing particularly expensive items or putting a deposit down on a property. Of course, another benefit of CHAPS payments is the same-day option, so they are often used for business-to-business payments that are urgent and involve large sums.
CHAPS MILESTONES
Somewhat remarkably, while CHAPS represents just 0.5% of the total payment volumes in the UK, it accounts for 93% of total sterling payment values. In the last few years, CHAPS has hit some noteworthy milestones:
On 29 March 2018, there were a record 320,034 payments, which beat the 11-year record by 38,000
Growth in CHAPS payment volumes over the previous five years outstripped migration to newer alternative payment methods
30 November 2020 was the day that £485 billion was settled in CHAPS – the all-time peak value day
This beat the previous record of £479 billion that was reached on 18 March 2020
CHAPS STATISTICS
In addition to the milestones reached by CHAPS in recent years, there are some statistics from over the last year or so, some of which can be explained by the pandemic:
July 2021
9 million payments worth a staggering £7.1 trillion were processed in July 2021
The average daily volume that month was 177,831 – an increase of 9.3% from the same month the previous year
The average daily value that month was £322 billion – a decrease of 11.3% from the same month the previous year
First Half of 2021
From January – June 2021, the average daily volume was 189,033 – an increase of 8% from the same period the previous year
From January – June 2021, the average daily value was £341 billion – a decrease of 6% from the same period the previous year
2020
CHAPS volumes declined by 8.5% to 44.5 million – an average of 175,346 per day
The total value transmitted in CHAPS in the 12 months to December 2020 grew by 10.2% to a record £91.9 trillion – a daily average of £361.8 billion
A quarterly statistical report is available on a section of the Bank of England's website.
CHAPS FROM CLEAR JUNCTION
While there are alternatives to CHAPS that Clear Junction provides its clients with access to, CHAPS is ideal for large, time-sensitive payments. Indeed, for banks, financial institutions and businesses that need to make urgent payments that are particularly large, CHAPS presents a perfect solution. Of course, our platform can provide access to BACS, Faster Payments, SEPA and SEPA Instant too – it depends on your specific requirements.
Visit the dedicated section of our website for more information about Clear Junction's CHAPS payment services.