The power to
convert currencies
The Clear Junction banking and payments platform has a range of different capabilities to make the business of doing business easier, effective and more efficient.

In addition to the accounts and payments solutions our team of experts have built, we have included some foreign exchange (FX) capabilities, so that financial institutions can overcome the challenges associated with handling multiple currencies.

Power your FX conversions.
Contact us

Power your business with FX conversions
FX is increasingly becoming an essential requirement for financial institutions engaged in cross-border payments and services.

After connecting with the Clear Junction digital payment processing platform, organisations can get access to foreign exchange capabilities to improve their service levels to customers and streamline otherwise-laborious processes associated with converting from one currency to another.

Using the FX conversion service, institutions can easily transfer funds between their balances maintained in different currencies.
Speed
The currency pairs that Clear Junction currently offers for exchange match currencies in which our payment services are offered. We are able to add further currency exchange pairings in due course – speak to a team member for any specific requirements your institution might have.
All currency exchanges take place during the standard business hours after the FX order has been placed within Clear Junction's online banking platform.
We understand that time is of the essence in today's world and if we can find a way of assisting our clients, we will work to explore the possibilities.
Convenience
The 21st century has ushered in a need for financial institutions to operate across multiple currencies. Clear Junction rates are based on the interbank market rates for the major currencies that are published by Bloomberg.
Our FX solution provides a fast and convenient means of your business buying or selling multiple currencies to facilitate improved service levels on behalf of your institution or its customers.
Integration
Through the correspondent account that is assigned to you by Clear Junction – and virtual IBANs you have allocated to specific customers – you are able to handle multiple currencies to make payouts in your customer's preferred currency.

Our platform has been designed with ease of use in mind, so the process of converting from one currency to another is straightforward and intuitive. When our FX solution is combined with other features of our platform, it becomes a powerful tool to boost your organisation's competitiveness – all through a simple integration.
Who we serve
Clear Junction connects financial businesses to a regulated payments infrastructure that helps them overcome the barriers and challenges relating to banking and payments.
Many businesses struggle to gain access to the services and functions they need to operate effectively and efficiently. Our skills and expertise have facilitated the development of a digital payments platform that is fit for purpose and aligned to your requirements.

We serve banks and financial institutions that want to connect to customers on an international scale. Our solutions make sending and receiving cross-border payments simple and straightforward.



payment service providers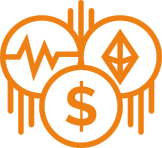 digital currency businesses