What is Bacs? Complete Guide to Bacs Payments
Bacs (or BACS) is an acronym that stands for Bankers' Automated Clearing System. Put simply, it is a network of banks and building societies that are part of the Bacs payment services scheme and is a convenient means for businesses to make electronic payments directly from one bank account to another.
Many people in the UK will be familiar with Bacs, not least because it is often the preferred method for paying wages and a common feature of payslips. In addition, Bacs payment services are used for the payment of pensions, state benefits and insurance settlements. The reasons for this are clear: Bacs is designed to facilitate regular payments on a specified date, making it extremely flexible, and it typically costs approximately 23p per transaction, making it one of the most cost-effective payment solutions out there.
Because of the relatively inexpensive cost of making transfers, Bacs is one of the best payment solutions for businesses wishing to make regular payments into UK bank accounts.
Note: While Bacs is a term often used to refer to the payments made, it actually refers to the system across which payments are made.
THE HISTORY OF BACS
Bacs was established in 1968 by Dennis Gladwell, although it was originally known as the Inter-Bank Computer Bureau. The core idea behind it at that time was to utilise recent technological developments and enable the transfer of funds between banking institutions without requiring physical documents.
Then, in 1971, the name was changed to the Bankers' Automated Clearing Services, with the addition of BACSTEL (a service available over the telephone), in the 1980s. The service proved extremely popular over time and more banks and building societies joined over the next few years. Before long, the name was abbreviated to BACS Ltd.
These days, it is difficult for us to imagine what making payments was like back then. BACS Ltd. represented a huge advance in payment technology and was far speedier and more convenient than cheques, which could take up to one week to clear. In contrast, BACS payments took approximately three days to clear (one day to enter the transaction into the system, one day to process the transaction, and one day for the transaction to be cleared).
This is a process that exists to this day and the service continues to be hugely popular with banks, building societies and corporations. Of course, the development of the internet has facilitated improved means of sending payment requests, providing greater security and efficiency.
MIND-BOGGLING STATISTICS
In 2018, Bacs became part of Pay.UK – a leading retail payments authority which is also home to Faster Payments. While the scheme is now more than 50 years' old, it is still the most popular method for sending and receiving business payments in the UK. Indeed, in 2013, Bacs Payment Schemes Limited announced that it had processed its 100 billionth (yes, you read that right – 100,000,000,000th) transaction.
To mark the occasion, an infographic was released which you can see below. There truly are some staggering statistics on there – particularly the 6.3 million transactions made per hour on a peak day, the £23 billion that was processed in a single day, and the 97.6 million transactions that were processed in a single day (though we have been unable to determine if these last two stats were achieved on the same day).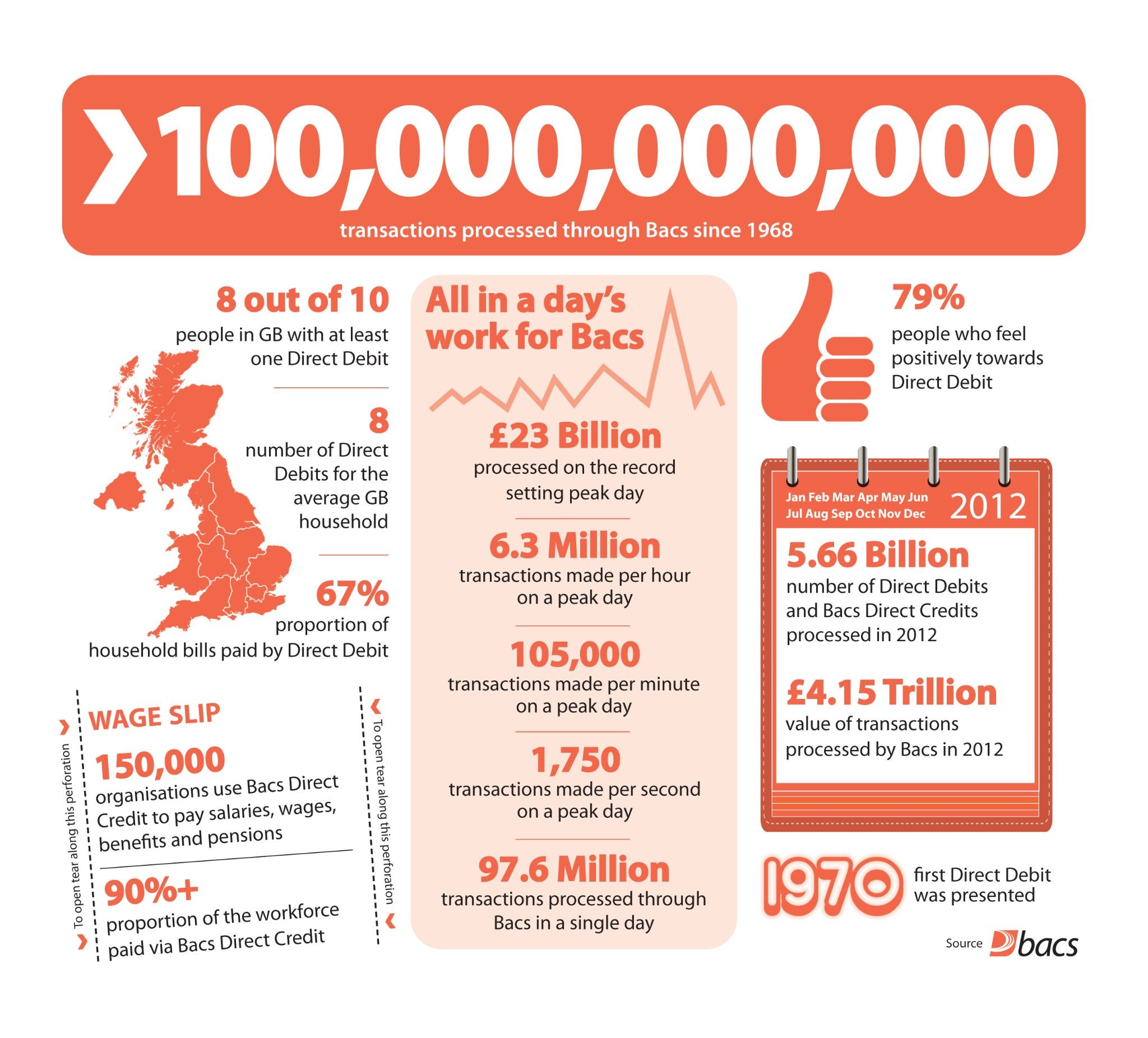 BACS DIRECT DEBIT
Bacs can be divided into two distinct services: Direct Debit and Bacs Direct Credit. As many of you will no doubt know, direct debits are instructions from a customer to their bank that authorises a particular company or organisation to collect payments from their account, usually on a specific date in the future. This is particularly handy for those who need to make regular payments, such as mobile phone contracts, magazine subscriptions, or a monthly donation to a chosen charity.
The key benefit is that once the instruction has been issued by a customer to their bank, the individual issuing the instruction can rest, safe in the knowledge that the funds will be sent from their account to another account on a regular, scheduled basis. The process offers a convenience that is appealing to individuals who do not want the hassle of making manual payments on a regular basis.
Note: Clear Junction only provides Bacs Direct Credit services to clients
BACS DIRECT CREDIT
Bacs Direct Credit is an effective means for businesses and organisations to make payments directly into a bank or building society account. It is a form of bank transfer (both terms are often used interchangeably) which provides a safe, simple and effective way of paying wages, employee expenses and tax credits. It is said that almost 90% of the UK workforce is paid by Bacs Direct Credit which is testament to how effective the service is.
There are many benefits associated with Bacs Direct Credit, not least the fact that payments cannot be lost, stolen or delayed. For businesses and organisations that want to move money, Bacs Direct Credit provides an affordable, reliable and highly flexible way of making money transfers.
BACS PROCESSING STATISTICS
The Bacs annual processing statistics for 2020 make for interesting reading. There were a total of 4,512,342,000 direct debits made in the UK last year, with some specific statistics listed below:
Charity Donations – 107 million
Gym / Health Club Subscriptions – 30.9 million
Magazine / Newspaper Subscriptions – 14.6 million
Mobile Phone Billing – 580 million
Water Bills – 162 million
Student Loan Repayments – 1.4 million
General Insurance – 359 million
There were a total of 1,945,466,000 direct credits made in the UK in 2020, with some specific statistics listed below:
General B2B Payments – 133 million
Expenses – 5 million
Dividends – 9 million
Payroll – 364 million
Annuities / Personal Pensions – 39.8 million
Interest Payments – 2.2 million
Business To Consumer Payments – 40 million
CLEAR JUNCTION PAYMENTS
Clear Junction's clients can utilise a range of different payment rails, including Bacs payment services. As this article makes clear, Bacs Direct Credit is an extremely safe, efficient and effective means of businesses transferring funds into bank or building society accounts.
In addition to Bacs Direct Credit, our payment solutions include Faster Payments and CHAPS – it all depends on the specific requirements of your business and the nature of the payments you wish to make.
For more information about Clear Junction's payments services, please visit the dedicated section of our website.