The power to
localise the global
In an increasingly globalised world, banks, financial institutions and other payments organisations require the ability to find effective routes into countries and jurisdictions around the globe. Clear Junction helps financial companies conquer the world by giving them access to local payment solutions on a global scale.
Our global digital payment processing platform provides access to local and international payment rails that enable you and your customers to receive, hold, transfer and payout in multiple currencies through a single touchpoint.
Localise the global.
Contact us

Power your business with payment rails
Clear Junction's proprietary technology can provide access to domestic and international payment networks across the UK, Europe and non-EU countries. By partnering with us, your institution can make and receive local and cross-border payments, and do business on your customers' terms.
Payments can be made immediately or you can schedule them for a date in the future. You can also make payments in a range of currencies, accept deposits and send funds directly to your customers for quick settlement.
You have the option of utilising in-country payment networks, including BACS, CHAPS, Faster Payments, SEPA, SEPA Instant, Fedwire and ACH. You can also make bank transfers in the US, Australia and other countries around the world.
BACS, CHAPS AND FASTER PAYMENTS (UK)
BACS was formed in 1968 and was originally known as the Inter-Bank Computer Bureau. Over the past 50+ years, very little has changed in its guiding principles and functionalities, and it is typically used for the payment of salaries by businesses in the UK. BACS is only available in GBP and BACS payments take up to three working days to clear.
CHAPS (Clearing House Automated Payment System) was established in 1984 and originally called the Bankers Clearing House before moving to its current name the following year. CHAPS is only available in GBP but payments can be settled the same day and there is no limit to the transaction value.
Faster Payments UK is suitable for the near-immediate settlement of transactions up to £1,000,000. It is only available in GBP, but there is a guaranteed delivery time of two hours (although payments typically clear within 15 seconds).
SEPA AND SEPA INSTANT (EU)
SEPA (Single Euro Payments Area) was introduced for credit transfers in 2008 and fully implemented in the euro area in 2014. It facilitates euro payments via credit transfer and direct debit to EU countries, as well as a number of non-EU countries. There is no limit to the transaction value and all payments are processed in the same way as local payments, thereby localising your organisation's international reach.
The SEPA Instant Credit Transfer (SEPA Instant) scheme is a fast and effective means of sending and receiving payments of up to €100K across Europe at any time, day or night. Clear Junction enables access to SEPA Instant to save your business time and provide flexibility. Payments are typically processed within 10 seconds and it has the capacity for high payment volumes. We offer a competitive fee structure and can scale payments depending on the requirements of your organisation.
GLOBAL PAYOUTS
Clear Junction offers payout services in a number of world regions outside of the UK and EU. These services cover the US, Australia and other countries. Additional countries can be added if requested.
Our fully automated solution enables financial institutions to submit payout instructions via our API or manually by uploading files onto our online banking platform.
When coupled with our FX conversion service, global payouts can add sufficient efficiency to your institution operations.
Who we serve
Clear Junction connects financial businesses to a regulated payments infrastructure that helps them overcome the barriers and challenges relating to banking and payments.
Many businesses struggle to gain access to the services and functions they need to operate effectively and efficiently. Our skills and expertise have facilitated the development of a digital payments platform that is fit for purpose and aligned to your requirements.

We serve banks and financial institutions that want to connect to customers on an international scale. Our solutions make sending and receiving cross-border payments simple and straightforward.



payment service providers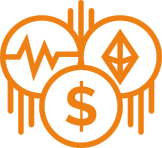 digital currency businesses