WHAT IS FASTER PAYMENTS? A COMPLETE GUIDE TO FPS
The Faster Payments Service (FPS) is an extremely popular method of making fast, effective and reliable payments in the UK. As the name suggests, payments made through FPS are much quicker than other methods, particularly if both the sending and receiving bank are direct participants of the service.
For banks, businesses and financial institutions that rely on the quick processing and settling of transfers, Faster Payments will be familiar. Put simply, the service is a means of sending money electronically in the UK and works in a similar way to BACS and CHAPS, although the time it takes for a payment to arrive in the recipient's bank account is much shorter. Indeed, payments are often instant, although they can sometimes take a couple of minutes.
Because of the short amount of time it takes for payments to be sent and received – and the fact that large individual sums can be facilitated – Faster Payments is one of the most popular methods of bank transfers for businesses and financial institutions in the UK.
THE HISTORY OF FASTER PAYMENTS
Faster Payments is owned and operated by Pay.UK, which is the company responsible for BACS payments and cheques. It seems remarkable that the first 24/7/365 near real time payment system in the world is only 13 years old, but Faster Payments was officially launched in May 2008 (although at that time, only non-scheduled immediate payments could be made). It was not until June 2008 that payments set for a date in the future and standing orders were added to the service.
On the day of launch, there were 13 directly connected banks but that number has grown to more than 30. Still, it is worth noting that every bank and building society in the UK is able to send and receive Faster Payments. By December 2008, approximately 10 million standing orders per month were being processed through Faster Payments, which represented 25% of its total payment volumes.
Today, Faster Payments enables mobile, internet, telephone and standing order payments to be made quickly, easily and securely. The Faster Payments transaction limit is £250,000, although this figure might be lower depending on your specific bank or building society.
DIFFERENT TYPES OF FASTER PAYMENTS
In total, there are four different types of payments that can be processed through Faster Payments and which one is the best for your business depends on your particular requirements. You can choose from:
Single Immediate Payments
Forward-dated Payments
Standing Orders
Direct Corporate Access
Single Immediate Payments
Single immediate payments are one-off payments that can be initiated using online banking, a mobile device, via telephone or in a branch. They are typically available 24/7/365 and up to £250,000 can be sent per transaction.
Monies are available in the recipient's account almost immediately, although in some instances it can take up to two hours. Importantly, if there is a reason why the receiving bank is unable to accept the payment, the customer will be given a response explaining when they can expect the funds to reach the account.
Forward-dated Payments

Forward-dated payments are payments sent and received on a pre-arranged date. They have to be set up beforehand and are typically used to pay bills etc. They can be initiated using the same methods as single immediate payments and have the same availability and transaction limit.
While forward-dated payments can be set up to be paid at weekends and bank holidays, some institutions will only process incoming payments on working days, so there can occasionally be a short delay.
Standing Orders

Standing orders are so commonplace these days that they hardly require explanation. They are essentially an instruction to a bank or building society that tells them to pay a fixed amount to the same recipient on a regular, recurring date. Payments can be sent Monday to Friday (not including bank holidays) and up to £250,000 can be sent per transaction.
While it is not possible to guarantee the exact time the payment will reach the recipient's account, at least 90% of standing orders are sent by 6am.
Direct Corporate Access Payments
Direct corporate access payments are specifically designed for businesses that need to send payment messages in bulk to the Faster Payments Service. The service is available 24 hours a day and recipients will typically receive the money the same day. As with all other types of payment, up to £250,000 can be sent per transaction.
FASTER PAYMENTS MILESTONES
In the relatively short space of time that Faster Payments has been operating, many significant milestones have been achieved. Indeed, there are so many achievements to list that we have merely selected a few and categorised them by year from inception up to 2021.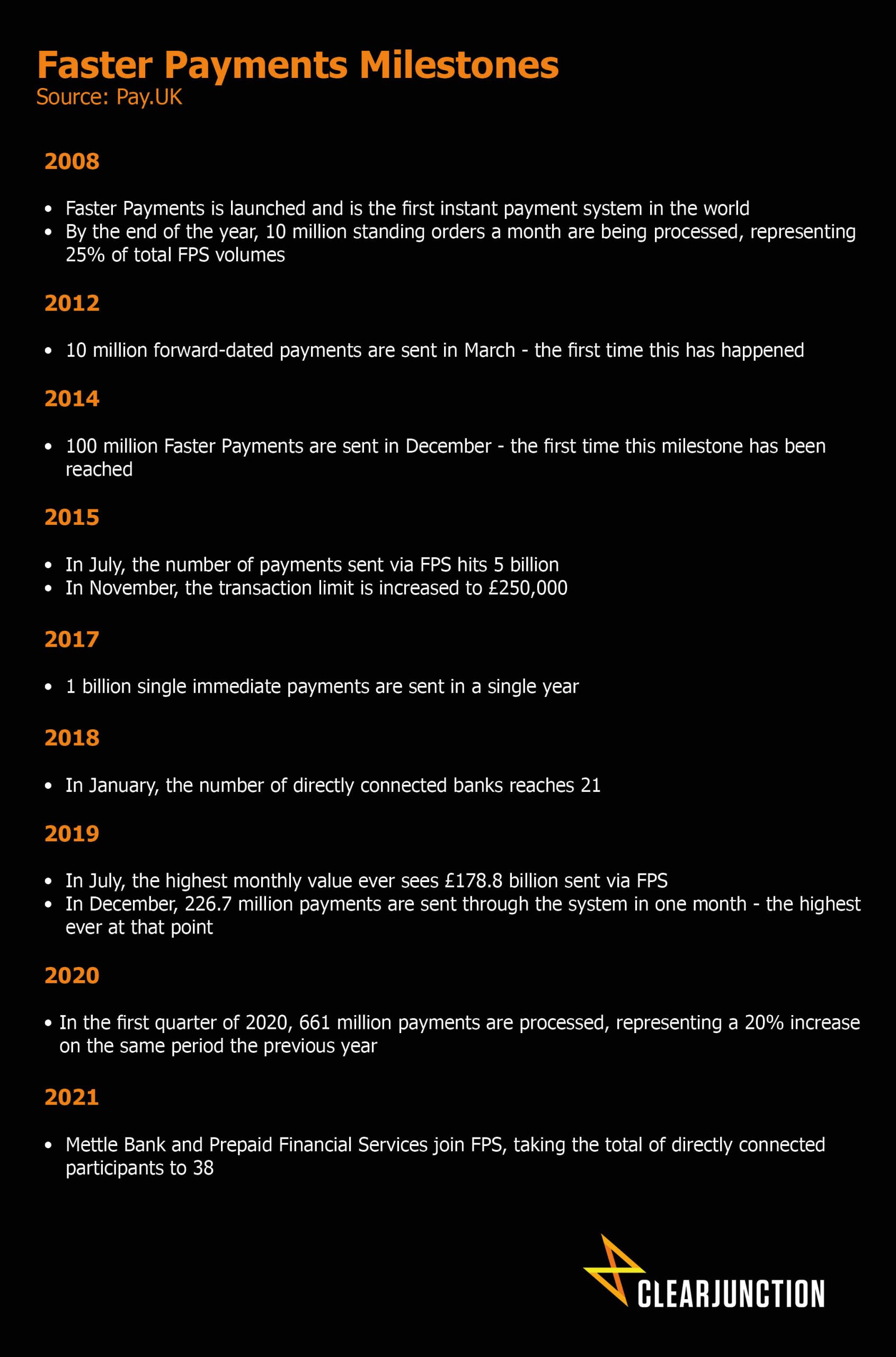 FASTER PAYMENTS PROCESSING STATISTICS
As the milestones should show, the Faster Payments Service is extremely popular and is responsible for processing a tremendous number of transactions quickly and easily. The guys over at Pay.UK have been kind enough to put together some Faster Payment System statistics, which we have condensed here.
May 2021
1 million payments were processed – a 27% increase on the number processed the same month the previous year
The payments total £199 billion for one month – a 40% increase on May 2020
Q1 2021
763 million payments were processed – a 15% increased on the amount processed the same period the previous year
The payments total £597 billion – a 15% increase on Q1 2020
2020
The Faster Payment System broke the record for the highest amount of payments processed in a single year
2020 showed an increase to more than 2.9 billion from 2.4 billion in 2019
The Faster Payments system broke the record for the number of payments processed in a single year
Over £2.1 trillion was transferred via FPS in 2020 – an increase from £1.9 trillion in 2019
FASTER PAYMENTS FROM CLEAR JUNCTION
Clear Junction's clients can utilise several payment rails, including Faster Payments. Clearly, for banks, businesses and financial institutions needing to send and receive funds quickly and easily, FPS is one of the best options available. In addition to Faster Payments, our payment solutions include BACS and CHAPS – and which one is the best for you depends on your specific requirements.
Visit the dedicated section of our website for more information about Clear Junction's Faster Payments services.