Money20/20 Europe 2022 Event
The Clear Junction team recently travelled to Amsterdam to attend the Money20/20 Europe 2022 event. It is difficult to overstate just how much we all enjoyed it and the ability to connect with people via the app and schedule meetings made the few days extremely worthwhile.
The havoc wreaked by the global pandemic over the past couple of years appears to be behind us now, although trace elements remain: it has changed the way that businesses operate, particularly with regards to hybrid working and conducting meetings over the internet via Zoom, Skype, Teams or any number of apps.
While this can be said to be a positive move (and one that helps people strike a healthy work-life balance), there are times when you realise just how much more effective it can be to talk and interact with people face-to-face. The recent Money20/20 Europe 2022 event certainly demonstrated this – it was just good to physically be somewhere outside of the house, where like-minded fintech and financial services professionals came together to learn, chat, socialise and basically enjoy proceedings over a few days.
A SPLENDID TIME WAS HAD BY ALL
The Money20/20 Europe 2022 event took place in Amsterdam on 7, 8 and 9 June, bringing together over 5000 people from countries around the world. With more than 300 speakers across six stages, there was ample opportunity to hear the thoughts of fintech leaders, as well as up and coming startups and new challengers.
We sent a team of five – Dima, Steve, Berivan, Igor and Claire – who could not speak highly enough of the entire experience upon their return. For some, it was their first time attending a Money20/20 event, while others had been to many previously, but all felt it was one of the best events they had ever had the pleasure of attending for various reasons.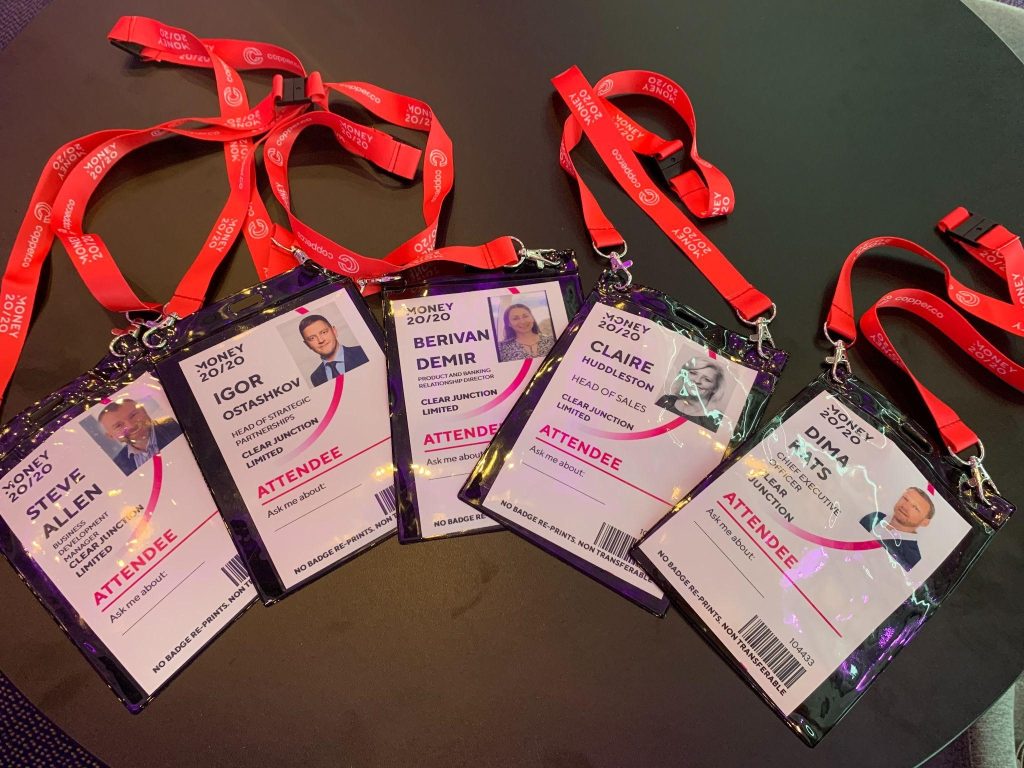 For our CEO, Dima Kats, it was the first time he had attended a Money20/20 event, but he came back certain it would not be the last. "There were a tremendous amount of business opportunities to be discovered there and the ability to connect with thousands of industry professionals was truly impressive," explains Dima. "I only wish I had found more time to listen to the sessions, but I was tied up in meetings thanks to how effective the app was for networking."
POWERING PAYMENT PROFESSIONALS
Our Head of Strategic Partnerships, Igor Ostashkov, had been to several Money20/20 events in previous years and was unequivocal in his championing of them. "Money20/20 is one of the most powerful networking events for payment professionals and I met with many new and existing partners, as well as potential clients," says Igor. "It was a great opportunity to grow my own network and learn about the latest trends and developments in the payments world."
As alluded to above, the exhibition was particularly special because it is the first one after the pandemic and the associated strict rules. This meant that people could have direct conversations and engage with each other on a face-to-face basis. It is certainly an event we are giving serious thought to exhibiting at next time around.
For Claire, our Head of Sales, one of the most notable aspects of the event was the increased presence of digital asset companies, such as Bitstamp and Zimpler. In previous visits, businesses such as theirs were not there, so it does show how the market is shifting in recognition of the growth of digital assets and the unexplored potential of them.
THE MOST IMPRESSIVE EVENT YET
Perhaps the most illuminating feedback came from Steve Allen, our Business Development Manager, who said that Money20/20 is the most impressive fintech and payments event that he had ever attended. "From the venue, to the networking app, through to the speakers, everything felt like it was at a premium level," explains Steve. "The companies in attendance were all serious, quality industry players and I believe Clear Junction having a stand at the next show would be a very sensible investment."
In addition to seeing new players, the event provided a chance to catch up with existing partners and old friends. Our Product & Banking Relationship Director, Berivan Demir, found the entire three days rewarding. "It was a brilliant event that enabled me to meet with people I had not seen for some time, as well as making some new contacts that will help Clear Junction expand its product offering and banking network globally," says Berivan. "Bumping into former colleagues I had not seen for many years was a highlight and I look forward to attending many more Money20/20 events in the future."