Ukraine Correspondent Accounts
Clear Junction's Ukraine correspondent accounts are perfect for businesses and licensed financial institutions based in Ukraine wishing to hold and maintain a monetary balance in their own name.
By partnering with Clear Junction, Ukrainian businesses can access domestic and international payment networks across the UK, Europe and non-EU countries.
To find out more, complete the form opposite and a member of our team will get back to you.
Correspondent accounts are an essential tool for your business to make and receive payments in domestic currencies and access the other banking and payments solutions that Clear Junction offers. For financial institutions dealing with accounts receivables, Ukraine correspondent accounts enable them to hold currencies outside of jurisdictions where they hold a presence and, in the majority of cases, the funds held in any foreign currency account are actually held in the correspondent account.
Our Ukraine correspondent accounts can maintain balances in multiple currencies and access to them is supported through our API or online banking portal. To find out more about how to access Clear Junction's banking and payments solutions, simply complete the form above and a member of our team will get back to you in due course.
Who we serve
Clear Junction connects financial businesses to a regulated payments infrastructure that helps them overcome the barriers and challenges relating to banking and payments.
Many businesses struggle to gain access to the services and functions they need to operate effectively and efficiently. Our skills and expertise have facilitated the development of a digital payments platform that is fit for purpose and aligned to your requirements.

We serve banks and financial institutions that want to connect to customers on an international scale. Our solutions make sending and receiving cross-border payments simple and straightforward.



payment service providers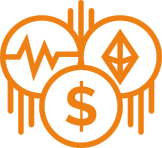 digital currency businesses

Why clear junction?
Clear Junction Ltd. is registered in the UK and authorised by the FCA as an electronic money institution. Our team is composed of fintech experts who are dedicated to helping businesses overcome the banking and payments challenges they face.

We do everything in our power to help financial institutions connect to a new world of opportunities, improve their customer proposition and realise their business growth ambitions.

Partnering with Clear Junction gives you access to a wide range of business benefits. Our solutions facilitate growth, are fit for purpose and boast flexibility to ensure they meet your requirements.

Access
Our products, services and solutions can be easily accessed by financial institutions and other businesses to help them expand internationally.

Speed
Our correspondent accounts and other solutions can all be accessed and utilised quickly through an API integration or our online platform.

Compliance
Our solutions are underpinned by continuous risk management processes and a safe and secure delivery methodology which is tailored to your needs.

Value
Our fee structure is competitive and designed to be flexible, so you can add more solutions as and when you require them.

Expertise
Our team is composed of fintech experts with years of experience. We understand the challenges financial institutions face and how best to overcome them.

Service
Our business has dedicated customer management and relationship teams to handle any queries and ensure that our solutions are maximising potential.
Find out how we can help your business